3 DJ's Global Dance Medication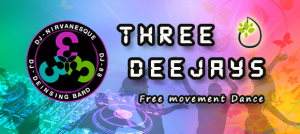 Come dance with us – Outside the Matrix (Please RSVP with one the 3 DJs or in the fb event.
Step into recovery mode. Rip of your masks, throw down the papers and turn off your televisions! Instant relief is there!
Highten your senses and get ready to move your feet, shake your body, breath deeply and get your inner juices going.
Our three deejays are here to highten your spirit and raise your vibration.
Tune in for body shaking rhythms, infectious tunes and healing vibrations together with DJ Chloroquine, DJ Remdesivir and Mr Zinc
Toegang 7,- EdanZ Kaart Houders 5,- afrekenen bij aankomst.
www.3djs.nl The Thee Deejays is a monthly dance event of www.edanz.nl
N.b.

GRAAG het protocol doorlezen en je aanmelden via deze link 
Related Events