Beauty and the Beast
19 mei @ 10:30

-

13:30

€20 – €24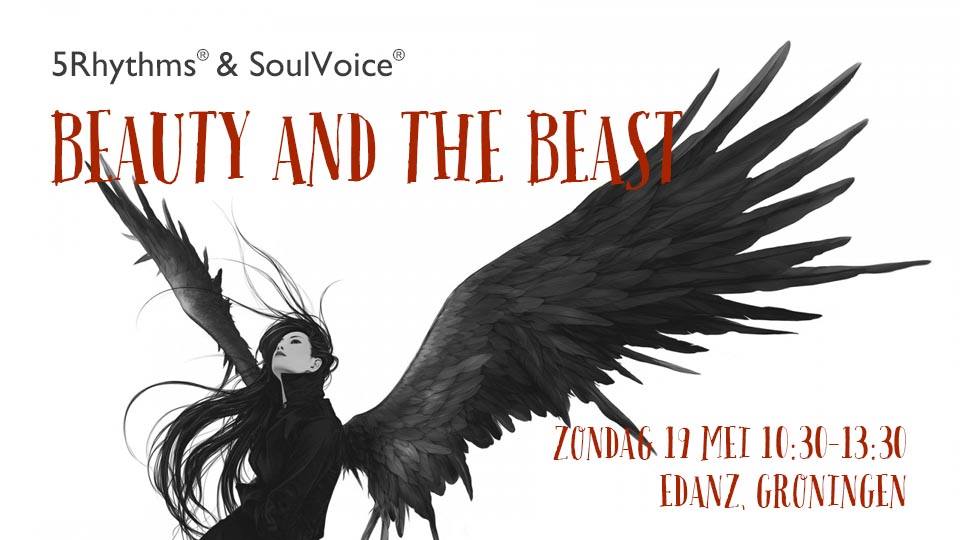 Oh the faces we choose to show to the world, the things we hold noble, graceful, worthy of love and respect. Oh the ways we try to hide, we try to select, censor, weed out parts of our true nature. It breaks my heart to see how often we dull our wild colors.
Rejected, then hidden so well that even we forget about them, parts of our soul like caged animals, accepting the restrictions. And yet…the Beauty of the Beast is in its run, majestic freedom, following its true nature, never cruel, doing what needs to be done for the balance in the world.
We aim to use movement and voice to re-member parts we cut away, parts in dark secret drawers, parts we may even find glorious but shame and fear keeps them safely locked and we tiptoe to visit them only after midnight.
We welcome it all my friends, dancers, movers; bring your voice, bring your body, bring your secrets, your temper and habits you hate, and secretly love, the moments of glory and compassion, we will travel towards wholeness of your Beauty and your Beast. At the end…maybe we will realize their were never meant to be separated.
Would love You to join this experiment,
♥ Olga and Mia
tijd: 10:30 – 13:30, zaal open om 10:10
lokatie: EdanZ, Studio 3, van Oldenbarneveltlaan 6, 9716 EJ Groningen
prijs: €24 of vooruitbetaling (48 uur voor de les) €20
contact:
Mia: 06 24267615; mia.arneric@gmail.com
Olga: 06 47412492; ocurras@yahoo.es
Mia Arneric:
Surfing the 5Rhythms Dance Waves for two decades, working with teachers of many flavors in different corners of our planet, I found joy in my light and shadows, acceptance of everything that is human! Holding a safe space where we can drop masks and take a breath of relief is the seed I grow with humor and ease.
Eternally inspired by 5Rhythms maps, I see how they they hold key to reconnect to our core and bring to light different aspect of our truth. For me it's the most efficient way for real me to see and be seen by real you, and I find that the most precious gift I could have asked for in this lifetime. Finally, I enjoy diving into the immense music treasure and creating sound waves to guide our bodies in all kinds of effortless and intuitive ways!
About 5Rhythms: http://www.5ritmesgroningen.nl/de-5-ritmes.html
Olga Currás:
Sinds 2018 ben ik Soul Voice® practitioner met mijn eigen praktijk: CuraSon. Mijn doel is om de ongelofelijke kracht van de stem, en die van onszelf als mensen, te laten ontwaken! We zijn echt een wonder! Ik wil blijven ontdekken, verdiepen, oefenen met plezier en bewondering om steeds authentieker, vrijer en spontaner te worden. Ik wil mensen meer levenslust laten ervaren in de vorm van verbinding, vertrouwen, overgave, compassie en heel veel trillende, leuke en intense klanken die alles in beweging brengen en dat ons helpen om intenties, concepten of een gevoel te belichamen en het met de hele wezen begrijpen en integreren.
We hebben de kracht en de mogelijkheid in ons om te worden wie we echt zijn en het leven met enthousiasme, vrij en moeiteloos door ons heen te kunnen laten stromen!
About Soul Voice: https://www.curason.nl/
Related Events