Yoga voor de ontwikkeling van de ziel – EdanZ events
27 januari @ 18:30

-

20:00

|

Recurring Event

(See all)

An event every week that begins at 18:30 on maandag, repeating until 3 maart, 2020

€6,50

– English below –
YOGA VOOR DE ONTWIKKELING VAN DE ZIEL
Eén van de belangrijkste doelen van yoga is om eenwording met de ziel te bewerkstelligen. De ziel is voor velen moeilijk te definiëren en ieder vormt daar een eigen beeld bij. Voor sommigen is de ziel iets vaags of ongrijpbaars.
Ik help je graag door de beoefening van yoga om je eigen begrip en relatie met je ziel te ontwikkelen. Maar zolang je afgeleid wordt door lichamelijke ongemakken of pijn, door een hoofd dat gevuld is met een constante stroom van gedachten en je door emoties verschillende kanten opgetrokken wordt, houdt de ziel zich op een veilige afstand.
Door de beoefening van eenvoudige en krachtige yoga asana's (houdingen), pranayama (ademhaling) oefeningen, en door diepe ontspanning met klankschalen uit de Himalaya's wordt het mogelijk om deze fysieke, mentale en emotionele begrenzingen te oversteigen. De lessen helpen je om een evenwichtige oefening op te bouwen, er zijn speelse momenten en er is tijd voor diepe ontspanning, wat cruciaal is om in contact te komen met de diepere lagen van je ziel. 
Anu is een student van Guru Premangee uit Nepal,  die spiritueel welzijn en innerlijke groei stimuleert door een simpel alledaags leven te leiden,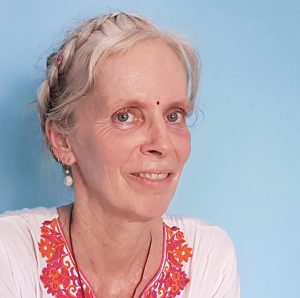 waar dan ook ter wereld en onder iedere omstandigheid. 
Na jarenlange yogabeoefening heeft Anu in 2013 haar lesbevoegdheid gehaald in India, waarna ze doorreisde naar Nepal. Daar ontmoette ze korte tijd later Guru Premangee. Sindsdien bewandelt ze het aloude pad van leerling en leermeester en deelt ze, ondersteunt door de levenslessen van Guru Premangee, op rustige en soms humoristische wijze aan ieder de kans om zich verder in yoga te verdiepen. Anu sluit iedere les af met de klankschalen uit de Himalaya's.
Kosten:  €6,50  en met EdanZ kaart: € 5,-
YOGA FOR THE DEVELOPMENT OF THE SOUL
One of the most important purposes of yoga is to create union with the soul. For many, the soul is hard to define and may be imagined in different ways. For others the the soul is something vague and elusive.
Through the practice of yoga i can guide you to develop your own understanding and relationship with your soul. But as long as you are distracted by physical discomforts or pain, by a head filled with a steady stream of thoughts and by emotions which lead you here and there, the soul keeps at a safe distance. Through the practice of simple yet strong yoga asanas (poses) and pranayama (breathing) techniques, and through deep relaxation with Himalayan singing bowls, it will be possible to go beyond the physical, mental and emotional limitations.
The classes are structured to help you build a steady practice, with moments of playfulness and time for deep relaxation, which is crucial to connect with the deeper layers of your soul. 
Anu is a student of Guru Premangee from Nepal, who promotes spiritual well-being and inner growth through simple everyday living, which can be applied at any place and in any circumstance. 
After practicing yoga for many years Anu went to India in 2013 to become a yoga teacher, after which she continued her journey to Nepal. There she met Guru Premangee. Since then she follows the timeless tradition of student and master and shares her knowledge, supported by the life lessons of Guru Premangee. Anu teaches yoga with compassion and humor, and she finishes the classes with the Himalayan singing bowls. 
Cost:   €6,50, with EdanZ card: € 5,-
Related Events