Verzeker Edanz van een bloeiende toekomst! – Make sure Edanz prospers!
Dear friends and supporters of EdanZ,
[Voor Nederlandse versie klik hier]
As of September a lot of you people have already visited "EdanZ".
The new centre has given roof to lots of initiatives and amazing activities. In very short time it became a very active and thriving place with lots of volunteers, a busy agenda and a variety of amazing activities. It's a place where many feel at home and welcomed. This location is a gift to so many people, a valuable asset to the city and the area and a place full of potential and possibilities for the future.
At the moment the location is hired by Wanda Idelovici from the local city council. She already has invested a lot in this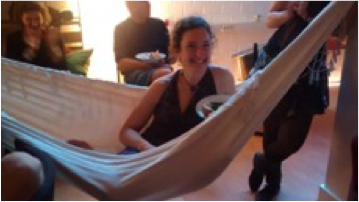 centre and it is now up to you and all of us to support her in this stage and in the future.
By lowering the monthly financial burden, we as a community, want to create space and freedom to let EdanZ blossom. And also give EdanZ a chance to look ahead into the future.
If we do this all together we will send out an amazingly powerful feeling of support and community and give a strong signal to the city council that this centre is supported by so many people with so much commitment!
We have picked a target amount of €25.000 for one-time donations and €2.000 for monthly voluntary donations. The one-time donation amount will be invested in EdanZ and extend it into a wonderful multifunctional centre. The monthly donations will be used to help out with the monthly operating costs.
You can act now simply by contributing a periodical voluntary donation according to your reach.
So if you want to back up this action and give your support to make sure Edanz will prosper, come to this meeting, share this message with your network and friends and commit yourself to a monthly gift. How big or small – it is of great value!
I support Edanz with a monthly voluntary donation of
–                 30 euros a month
–                 25 euros a month
–                 20 euros a month
–                 15 euros a month
–                 10 euros a month
–                 5 euros a month
–                 2 euros a month
–                 1 euros a month
Donate a voluntary donation via donation page on EdanZ at http://www.edanz.nl/donatie
On the donation website page you can specify one-time or monthly donations.  If you have any questions about donations in general or your donation please feel free to send an e-mail to donaties@edanz.nl

A huge thanks from all volunteers, users, friends and supporters van EdanZ – dankjewel!
[Voor Nederlandse versie klik hier]